5 MB Sample Movie in Quicktime Format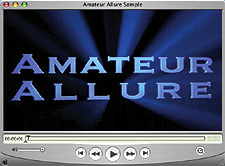 Click here to play sample.
Please wait to load or right click and save as
Itís rare to find a really beautiful, sexy girl who LOVES to give head. Hereís one.
When this beauty found out what Amateur Allure was all about she immediately told us how much sucking cock turned her on, just describing her technique got her breathing hard and had her nipples poking through her shirt! To prove it for sure, three minutes into her first video she pulled her panties off to show us they were completely soaked!
CLICK HERE FOR THE FREE TOUR!